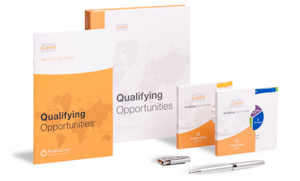 Our experience with over 35,000 sales professionals all over the world—in large, medium, and small-sized companies—has revealed three predictable behaviors that most sales people experience:
First is their reluctance to stop pursuing weak opportunities because they're afraid they won't hit their quota.
Next is their apparent rush to close the deal without taking the time to really understand their client's needs.
Finally, the third behavior is the sales person's inability to handle objections and pushbacks effectively.
The results are often over-investing in the wrong people and opportunities, under-investing in the right opportunities, and leaving money on the table by failing to uncover the business issues their clients are really striving for.
The good news is, these behaviors can be replaced with new and effective behaviors.
With FranklinCovey's Helping Clients Succeed: Qualifying Opportunities, sales professionals learn how to widen their relationship footprint into larger and more strategic opportunities while focusing on the right deals and developing the mindsets and skillsets of top performers.
The results are lower cost of sales, increased deal sizes, increased win rates, and delighted customers!
"Nowhere in the sales process do a few minutes of dialogue more quickly determine whether we continue or end our relationship than during the initial interaction."

—Randy Illig, Co-author, Let's Get Real or Let's Not Play
ThREE NEW MINDSETS
Our approach begins with an interactive one-day program that establishes and supports three key selling mindsets:
First is Enable Decisions, where we emphasize the capability to help the client make incremental decisions along the selling cycle.
Second is Win Fast, Lose Fast, where we help sales people understand that both Qualifying In and Qualifying Out are both appropriate and intelligent options.
Finally, Handle Objections, focuses on dealing with a variety of predictable push backs in a way that allows the client to take responsibility for fixing and resolving the objection.


BECOME CERTIFIED TO TRAIN QUALIFYING OPPORTUNITIES
Now, for the first time ever, your sales trainers and sales leaders can become certified virtually to train Helping Clients Succeed: Qualifying Opportunities in your organization.
With FranklinCovey's virtual certification portal, sales leaders and trainers have the flexibility to prepare at their own pace from wherever they may be by watching online videos of our expert sales consultants and accessing electronic materials. With the option of returning to the portal over and over, there is no limit to how much they can learn.