Few things can be more daunting than negotiating with tough client organizations.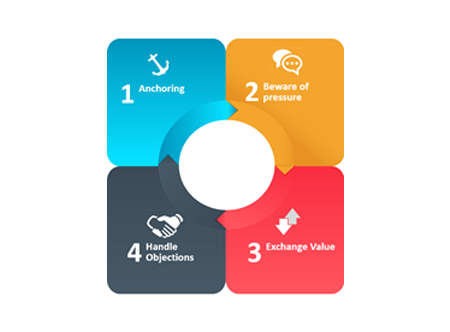 As a result, consultants and sales people often negotiate too hard or too soft for their own or their client's interests.
Are consultants and sales people in your organization experiencing any of the following?
Giving on price or sacrificing margins to win the business.
Struggling to deal with "negotiation games" and often agreeing to inferior arrangements to close the deal.
Not knowing how to effectively create and claim an appropriate share of the value and leaving money on the table.
"In the end, an organization is nothing more than the collective capacity of its people to create value."

—LOUIS GERSTNER, FORMER CHAIR AND CEO, IBM
This workshop teaches how to manage the human dynamics in every negotiation and dramatically improve business outcomes. Participants will learn the four main principles at play in every negotiation:
Prepare better, do better
The power of anchoring
Pressure-the killer in every negotiation
How to create value exchanges that keep margins intact and drive satisfaction
COURSE OBJECTIVES
Create and claim more value.
Prepare and execute a powerful negotiation plan with credible targets.
Resolve pressures and fears and develop strong objection-handling skills.
Decide when, and when not to concede with confidence and skill.
Stop discounting and create effective value exchanges.
Nurture and sustain long-term client relationships in a competitive environment.
Get Started Today!
Learn to plan for negotiation, create options for mutual gain, and move negotiation from bargaining to closing. Reach out using your method of choice and we'll put you in touch with a Sales Performance expert who will help find out if FranklinCovey's Negotiation solution would work for you and your sales organization.